Welcome to Year 7
We're so excited that you'll be joining The Cedars Academy as one of our new Year 7s; here you will find all the information you will need.
Ready? Here we go…

Joining us in Year 7
We can't wait for you to join us in August 2023! We know that this is a big step for you to leave Primary School and get ready to join us at Secondary School, so we want to put you at ease and prepare you as best we can.
So, we have put together a booklet with useful information and activities that you can have a go at before you join us. You will receive a paper copy to complete, but you can also download and print one using the link below.
Download here

A WELCOME FROM JAMES ROLFE, ASSOCIATE PRINCIPAL

We're part of the Lionheart Academies Trust, a family of 11 schools around Leicestershire and Kath Kelly, the CEO, would like to welcome you to the Lionheart Family too.

During each week at school, you'll get to see the Principal, Mr Rolfe, and Mrs Sanchez, at assembly or in the corridors, however, someone else you'll get to know is Mr Moralee, Head of Year 7. He will ensure you settle in well and stay with you throughout your year 7 journey.

Your timetable
This is what your typical day will look like in year 7. Your day will be split into six lessons, with a morning break and lunchtime to relax, meet friends and make new ones.Here's an example of what your timetable could look like. We'll give you your actual timetable when you start at school and be on hand to help you find your classrooms until you get to know your way around.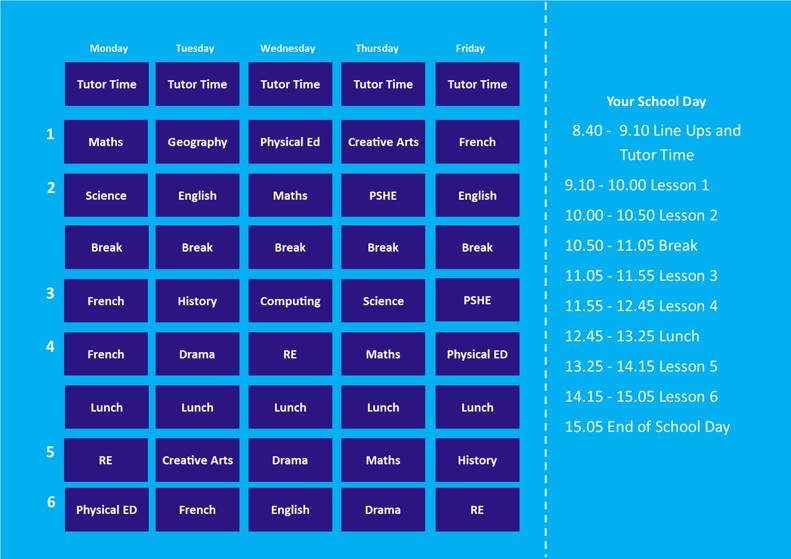 Your uniform
Now on to something very important – fashion! Well, maybe not quite, but uniform is definitely an important part of school life. It helps all our students belong to The Cedars Academy community and we love seeing our students dressed so smartly every day. So, what will you need to wear?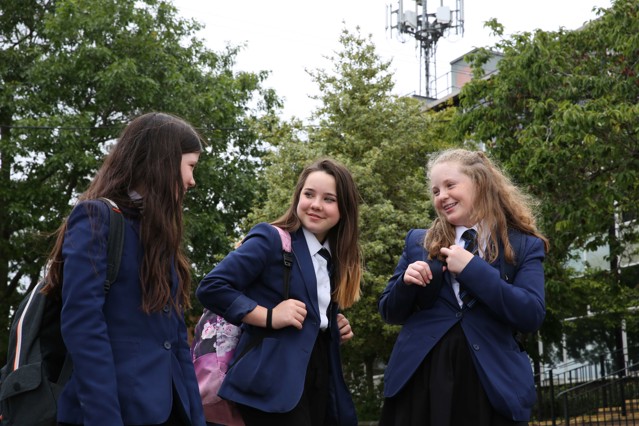 You will need to wear a blue school blazer with our school emblem, a white stiff collared shirt and a school tie, with a black or grey knee length skirt or black or grey tailored trousers. You can wear shoes or trainers, however they must be all black.
Uniform is ordered through Schoolwear Solutions. Please find out more about your uniform here.

Extra Support
There's lots of other support and information that will ensure you have the best possible education during your time with us at The Cedars Academy, which you may or may not need, including SEND.
We are committed to helping you fulfil your potential, which is why we organise our teaching to meet your needs. So, if you require extra support, our learning support assistants will work with you, to help you become an independent and resilient learner.
If you'd like to learn more, you can do so here





Getting secondary school ready
Here are our top tips for getting 'Secondary School Ready' so you're ready and raring to go. See you soon!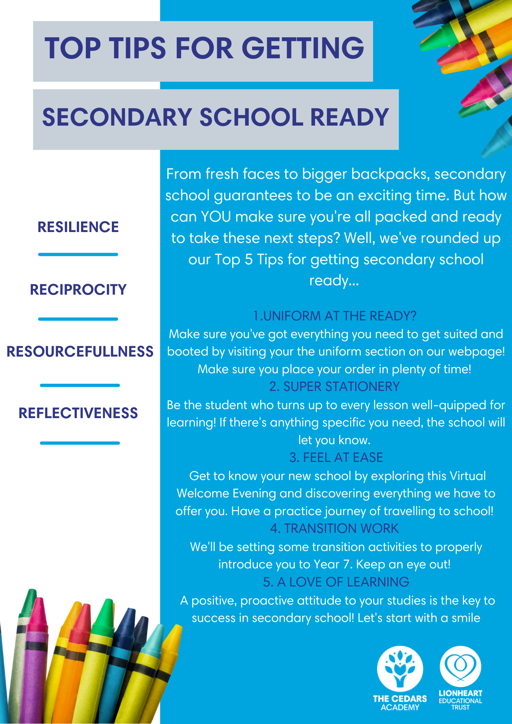 If you have any questions, please email us at schoolenquiries@thecedarsacademy.org.uk